Eunice Hospital's preadjusted trial balance at December 31, 20X1, included the following accounts, among others: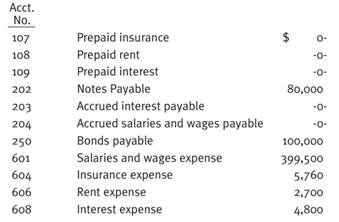 The following additional information is available:
1. A three-year insurance premium was prepaid on January 1, 20X1.
2. One year's rent was paid in advance on June 1, 20X1.
3. On December 1, 20X1, an $80,000, 12 percent, six-month loan was obtained from a local bank; interest was prepaid.
4. Unpaid salaries and wages at December 31, 20X1, amounted to $27,400.
5. On April 1, 20X1, $100,000 of 6 percent, 15-year bonds were issued at face value. Interest on these bonds is payable annually on April 1, beginning April 1, 20X2.
Required: Prepare, in general journal form, the necessary adjusting entries at December 31, 20X1.