Depreciation and cash flow A firm expects to have earnings before interest and taxes (EBIT) of $160,000 in each of the next 6 years. It pays annual interest of $15,000. The firm is considering the purchase of an asset that costs $140,000, requires $10,000 in installation cost, and has a recovery period of 5 years. It will be the firm's only asset, and the asset's depreciation is already reflected in its EBIT estimates.
a.       Calculate the annual depreciation for the asset purchase using the MACRS depreciation percentages in Table 4.2 on page 150.
b.       Calculate the firm's operating cash flows for each of the 6 years, using Equation 4.3. Assume that the firm is subject to a 40% tax rate on all the profit that it earns.
c.       Suppose that the firm's net fixed assets, current assets, accounts payable, and accruals had the following values at the start and end of the final year (year 6). Calculate the firm's free cash flow (FCF) for that year.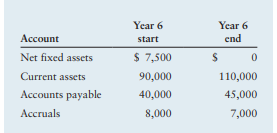 d.      Compare and discuss the significance of each value calculated in parts b and c.